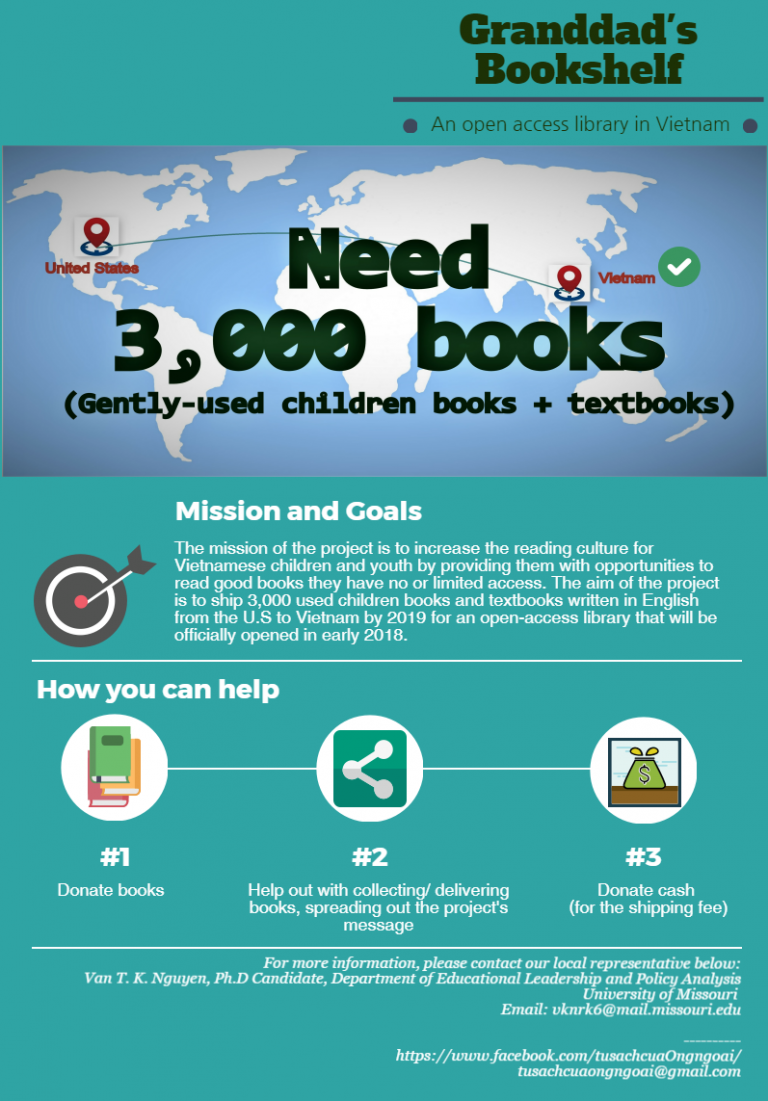 OUR MISSION
Grand Dad's Bookshelf is a non-profit project founded in early 2017 by Van T. K. Nguyen, Ph.D. The mission of the project is to increase the reading culture for Vietnamese children by providing them with opportunities to read invaluable books they have no or limited access. The aim of the project is to collect 3,000 new and gently-used children's books and textbooks written in English mainly by shipping from the U.S to Ha Noi, Vietnam by 2022 for an open-access library that will be officially opened in late 2022.
HOW THE PROJECT WORKS
The project is collecting new and gently-used books donated by individuals and organizations across the States and then ships to Vietnam for an open-access library at Thanh Xuan, Hanoi. Until now, the project has collected 1000+ books in the U.S. The current issue the project is facing is the limited funding while the shipping fee to Vietnam is expensive. Thus, the project is calling for help, donations, and any social engagement from individuals and organizations who value the meaning of the project in order to get the project's goals.
HOW YOU CAN HELP?
• Donate books: You are living or studying in the U.S (even Vietnam or any other countries) and have children books and textbooks that you did not use any more, please donate them to Granddad's Bookshelf. Please email us via vknrk6@mail.missouri.edu for detailed instructions.
• Become a local representative:
– You can spread out your message to friends and relatives. For example, you can download the project's poster and stick it on the notice board in the place you live or work to let more people know about the project.
– If possible, you also can join the project as a book collector. One of the ideas you can use is you may edit the poster including your contact information and then stick it on one carton box (big enough for about 10 books) so that people can put their donated books in. After that, monthly your task is to come and take those books and inform the project's staff for picking up.
• Be a volunteer: You can give the project a hand with collecting books, listing book names, categorizing books, delivering books, organizing the library's activities: story time, contacting interest individuals and organizations for fundraising, and so on. Any form of help is appreciated, please contact us if you are interested.
• Donate cash: We appreciate every little amount of money you donate to the project. Your donation will be used to ship books from the U.S to Vietnam by air or sea freight. Please email us via vannguyen@missouri.edu for the project's bank account information if you are interested.
OUTCOMES
The following are the numbers of books we could make over the past few years and the targeted numbers for the coming years.
Year Quantity
2017 500
2018 1000
2019 100+ (big books)
CONTACT US
Van T.K. Nguyen, Ph.D.
vknrk6@gmail.com